William J Davidson
M, b. 3 May 1799, d. 7 November 1863
     William J
Davidson
was born on 3 May 1799 at
England
. He married
Ann

Evans
on 12 July 1825 at
St Mary, Lambeth, England
.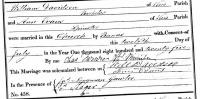 London England Marriages and Banns 1754-1921 Lambeth St Marys 1825
William J Davidson appeared on the census of 1860 at
Brooklyn, Kings, NY, USA
; Occupation=Watchman.
1
He died on 7 November 1863 at
NY
at age 64; Died at the first precinct police station from an accidental fall.
The Daily Brooklyn Eagle, November 9th, 1863
He was buried on 9 November 1863 at
Cypress Hills Cemetery, Brooklyn, NY
.
Citations
[S68] 1860 Federal Census Census,.