Elsie Viola Gibson
F, b. 21 May 1890, d. 1918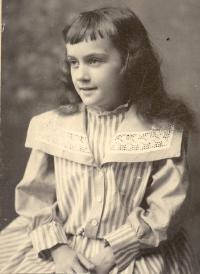 Elsie Viola
Gibson
was born on 21 May 1890 at
Brooklyn, NY
. She was the daughter of
George Geary

Gibson
and
Alphretta

Binnix
. Elsie Viola Gibson appeared on the census of 1900 in the household of George Geary
Gibson
at
Brooklyn, Kings, NY, USA
; Rife Maker.
1
Elsie Viola Gibson appeared on the census of 21 April 1910 in the household of George Geary
Gibson
at
466 E. 186 St, Bronx, NY, USA
; William Sutton listed as a boarder just before he married Georgetta.
George Geary was a tinsmith working at the Navy Yard.
Nellie designer of childrem hats factory.
Georgetta was a stenographer at hardware.
Elise was a typist at hardware
Fanny was an operator at childrens dress factory.
William Sutton was a salesman at silk importers.
They rented a house- now its condos or apartments (2015).
George stated his father born in VA.
2
Elsie Viola Gibson married
Herbert Alvah

Butler
, son of
Simeon Andrews

Butler
and
Ella Gertrude

Brown
, circa 1915. As of 1915,her married name was Butler. Elsie Viola Gibson was buried in 1918 at
Maple Grove Cemetery, Kew Gardens, Queens, NY
. She died in 1917 in the great Flu Epidemic during WWI. Married Herbert Butler – no children. in 1918. She died in 1918 at
New York, NY
.