Jean Hamilton Slimon
F, b. 15 February 1894, d. 13 January 1946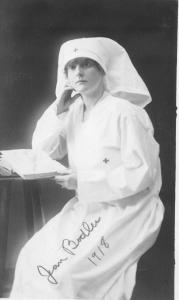 Jean Hamilton
Slimon
was born on 15 February 1894 at
Brooklyn, NY
. She was the daughter of
James

Slimon
and
Christine

Henderson
. Jean Hamilton Slimon lived in 1918. She married
Milton Jay

Butler
, son of
Simeon Andrews

Butler
and
Ella Gertrude

Brown
, on 6 April 1918 at
Lewis Avenue Congregational Church
. As of 6 April 1918,her married name was Butler. Jean Hamilton Slimon appeared on the census of 1920 in the household of Milton Jay
Butler
at
Brooklyn, Kings, NY, USA
; Name is BULTER in the index.
Occupation: Bookkeeper, Trucking.
1
Jean Hamilton Slimon appeared on the census of 1930 in the household of Milton Jay
Butler
at
Brooklyn, Kings, NY, USA
; Occupation: Superintendent - Real Estate.
2
Jean Hamilton Slimon died on 13 January 1946 at age 51. She was buried on 17 January 1946 at
Moravian Cemetery, SI, NY
.